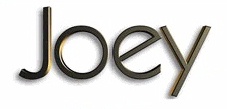 Page Layout and Synopsis ©2012 by Darcy Partridge
2.13 - Joey and the Christmas Party
[Previous]
[Next]
[Back to the Master List]
The new "fun" Alex kisses Joey and they almost sleep together, but Gina derails it when she tells Joey that Alex has feelings for him. Bobby has a new boyfriend -- Albert, a britain who won't touch her. Joey throws a Christmas Party; invites models; Zach and Michael hit on women... badly.

---

Credits

Written by Linda Videtti Figueiredo & Matt Hubbard

Directed by Gary Halvorson

John Michael Higgins as Albert

Ben Falcone as Howard

Kevin Farley as Drunk Santa

Gregory Harrison as Dean

Brande Roderick as Robin

Meiko Hillman as Woman #1

Sarah (Sierra) Edwards as Woman #2

Shaughn Buchholz as Delivery Man

---

Information about original broadcast:

Air date: December 15, 2005

Run Time (with commercials): Approx 30 minutes

---

Points of Interest

Joey's Magna-Doodle: The abominable snowman (from Rudolph the Red-Nosed Reindeer) putting the star on a Christmas Tree. Reindeer (presumably Rudolph) along side.

When it originally aired, this episodes was the second part of an hour-long broadcast.