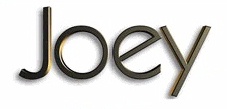 Page Layout and Synopsis ©2012 by Darcy Partridge
2.14 - Joey and the Snowball Fight
[Previous]
[Next]
[Back to the Master List]
Joey's movie action figure comes out... and has breasts. The factory tries to fix it, and then he's black. Alex's new relationship with Dean makes Joey worry that it might be more than a short fling. Michael acts odd around Jimmy, but is not ready to tell Jimmy he's his father. Gina thinks she's pregnant with Jimmy's child... again. Joey reads Brokeback Mountain. Joey and Alex get into a mashed-potato snowball fight.

---

Credits

Written by Matt Hubbard & Tracy Reilly

Directed by Gary Halvorson

Adam Goldberg as Jimmy

Gregory Harrison as Dean

Jennifer Ann Burton as Waitress

Suzanne Sole as Mother

Devin Brochu as Little Boy

---

Information about original broadcast:

Air date: March 7, 2006

Run Time (with commercials): Approx 30 minutes

---

Points of Interest

Joey's Magna-Doodle: An elephant that has been swallowed by a snake.