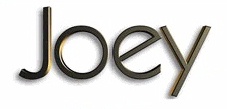 Page Layout and Synopsis ©2012 by Darcy Partridge
2.12 - Joey and the Tijuana Trip
[Previous]
[Next]
[Back to the Master List]
Michael is bummed that Abby put their relationship on hold, because he doesn't know what he wants. Joey decides to take him on a single guys trip to Tijuana. After waking up drunk the next morning, Joey and Zach discover a video tape... of their wedding. Alex obsesses because Dean (Joey's neighbor) says she doesn't know how to have fun. She learns Joey and Zach marriage is not valid, but decides to have some fun with them helping them seek a divorce.

---

Credits

Written by Robert Carlock

Directed by Gary Halvorson

Ben Falcone as Howard

Gregory Harrison as Dean

Arloa Reston as Elisa

Joaquin Garrido as Officiant

Dylan Bruce as Waiter

Brandon Stacy as Man in Bar

---

Information about original broadcast:

Air date: December 15, 2005

Run Time (with commercials): Approx 30 minutes

---

Points of Interest

Joey's Magna-Doodle: The Grinch's dog (Max) with fake antlers strapped to his head.

In it's original airing, this episode was the first half of a hour-long broadcast.